Stuffed Red Peppers with Quinoa, Zucchini, and Feta Cheese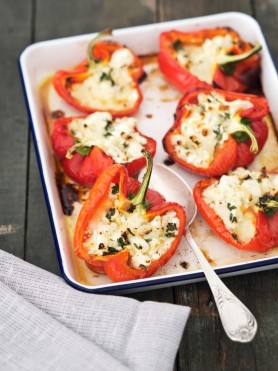 This stuffed red pepper recipe is a great way to use leftovers from the week to make a delicious meal that is packed full of nutrition and is FODMAP friendly.
Serves 4. Prep time: 10 minutes. Cook time: 30 minutes
Ingredients
1 teaspoon extra-virgin olive oil
1 zucchini, diced
2 cups cooked quinoa
Pinch sea salt
Freshly ground black pepper
4 bell peppers (red, orange, or yellow)
1/2 cup feta cheese crumbles (optional)
Instructions
Preheat the oven to 375 F.
Heat the olive oil in a medium skillet over medium-high heat. Add the zucchini and sauté until slightly tender, 2 to 3 minutes. Transfer the zucchini to a large bowl.
Add the quinoa to the bowl of zucchini, and season with salt and pepper. Stir to combine well. Set aside.
Cut off the tops of the bell peppers and remove the seeds and ribs from inside. Stuff the peppers with the quinoa mixture.
Place the stuffed peppers in an 8-by-8-inch baking dish. Cover with aluminum foil and bake for 20 minutes.
Remove the peppers from the oven and add the feta to the top of each pepper (if using). Re-cover with the foil and bake for an additional 5 minutes.
Per Serving (1 pepper): Calories: 154, Carbohydrates: 27g, Fat: 3g, Protein: 6g, Fiber: 5g, Sodium: 90mg